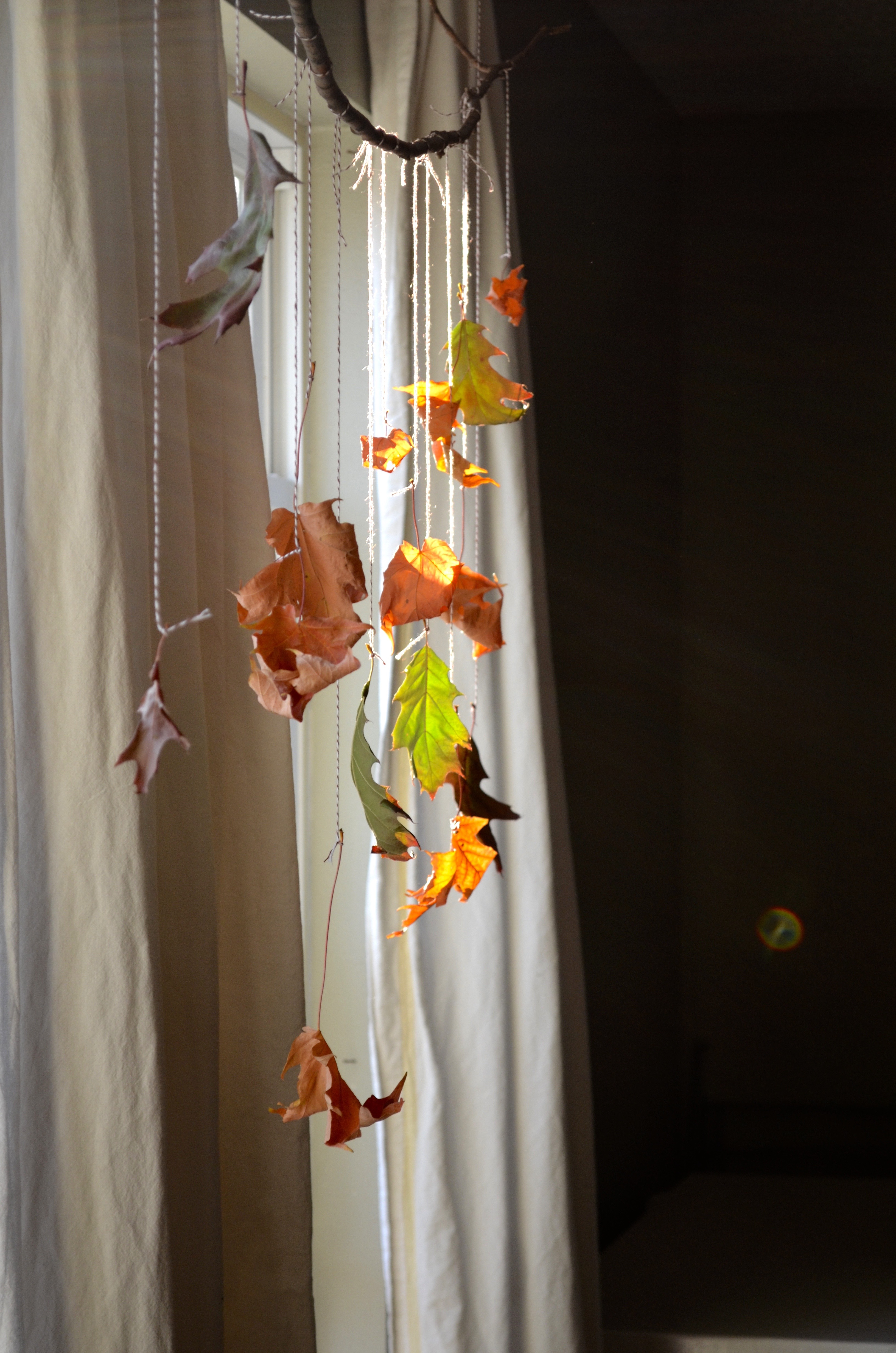 Autumn Leaves Light Catcher
Autumn Leaves Light Catcher
I love Autumn (and Winter. And Spring. And Summer – okay, I love them all …). I love the crispness, the colors, the baking, the lack of mosquitoes, and the way the light changes. It is not quite Winter blueness, but not quite Summer intensity – kind of warm, makes you feel cozy, like you are being wrapped in a blanket.
Our trees are changing colors so quickly, and then shedding their leaves promptly – changing and moving toward Winter. I was looking out our back window the other evening, watching the light stream through our maple tree. The color was just so glorious. Knowing that the leaves would be gone in just another day or two, I wanted to capture a little bit of that gloriousness for a while longer, to enjoy the light in the leaves for a few weeks more. So – an Autumn Leaves Light Catcher!
materials needed:
an assortment of lovely fall leaves (collecting these would be a perfect opportunity for

a Nature Walk

)
a branch – this can be straight or curvy, your choice!
string (you could also use fishing line/monofilament to achieve a "floating leaves" look)
scissors
step 1:
tie the string to the stem of a lovely little leaf.
step two: cut the string to the desired length and tie it to your branch.
and continue these until you like the way it looks! I like the way staggering the heights of the leaves looked, but there really isn't any "Wrong" way to do this. Just enjoy the process. :D
Once you have the leaves suspended the way you like, add one more string to hang the mobile with and find a place where the light will stream through. After that, just remember to take a moment or two every day to enjoy the beauty, let the warmth of color and light feed your spirit.
This could be altered in all sorts of ways – add feathers! Use paint pens to decorate the leaves! Or glitter! Really, the only limit is your imagination. :)
If you're looking for other Autumn Inspiration, I have some lovely Autumn and Thanksgiving things on Pinterest.
<3